"To me the performance of medieval music is an act of love, the love of making a contribution to humankind. It consists in sharing compiled knowledge from the perspective of an artistic mind"

My motto: The beauty is when one realises that every little step in the acquisition of knowledge transforms our image of what medieval music is to us.
I grew up in a family of artists surrounded by fine arts, music, and literature. Since I was a child I wanted to be a musician, a will that brought me to study piano in Barcelona, and The Hague, and medieval keyboards in Basel. Nowadays I live between Basel and Barcelona and dedicate most of my time to medieval music: performing, teaching and doing research.
The sound of medieval organs is forged by modulating wind pressure through bellows: their expressive possibilities are immense.
The reconstruction of sound is fundamental to me, we are faced with a wide choice of aesthetics. The artist explores the sonority of the instrument and lets it speak, connecting the public and the musicians' mind.
You can download my Bio/CV here (PDF). Contact me here to know what concert programs I can offer you.
Instruments I play
Each instrument is a door to a unique universe of sound
Portative organ of the 13th century
A word-first reconstruction of this model of portative organ (2014), following a musicological research of written sources and iconography. Some unique features of this instrument are: light and small size, a strap for holding the instrument, copper pipes, diatonic keyboard, pointed and loud sound.
Portative of the 14th-15th century
This portative is the most common model of the second half of the 14th century and the 15th century. It is performed mostly on the lap and has a bellow with huge capacity of air. Some of their characteristics are: to be performed on the lap, chromatic keyboard, big bellow, mild and velvet sound.
Positive organ of the 15th century
Very few original instruments of the 15th century survived to our days. Sometimes copies are made by modern organ makers, like this one from the Salamanca Cathedral of the so-called Anaya Organ, dating back to the 15th century.
Clavicimbalum
The clavicimbalum is a small string keyboard instrument that lived its golden era in the 14th and 15th century. Most reconstructed models follow Arnaut de Zwolle's design (15th century).
Clavicytherium
This upright type of string keyboard instrument is an exception in the field of medieval keyboards, based on the fact that just one exemplar survived to our times. This surviving original is at the Royal College of Music (London), dates back to 1480 and is of South German provenance.
Piano
This instrument doesn't need any introduction! Although Cristina prioritizes her career as medieval performer, she hasn't forgotten the piano solo and chamber repertoire, and still performs in public every now and then.
Ensembles
Click here to discover the concert programs and plays that I am currently offering.
I am a regular member of a number of ensembles. Each of these ensembles dedicate to specific, surviving repertoires. For example La Douce Semblance (dir. Brice Duisit) focuses on 14th century French monody such as the works of Lescurel, Fauvel and Machaut; and 13th century polyphony and dances (photo below).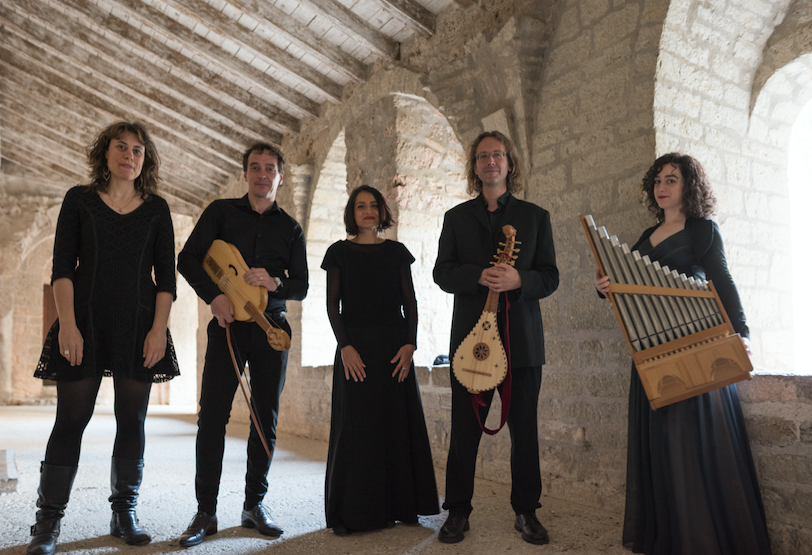 Discography
I have participated in the recording of various ensembles and I'm now preparing my first solo CD.
Latest News on Performance & Upcoming Events